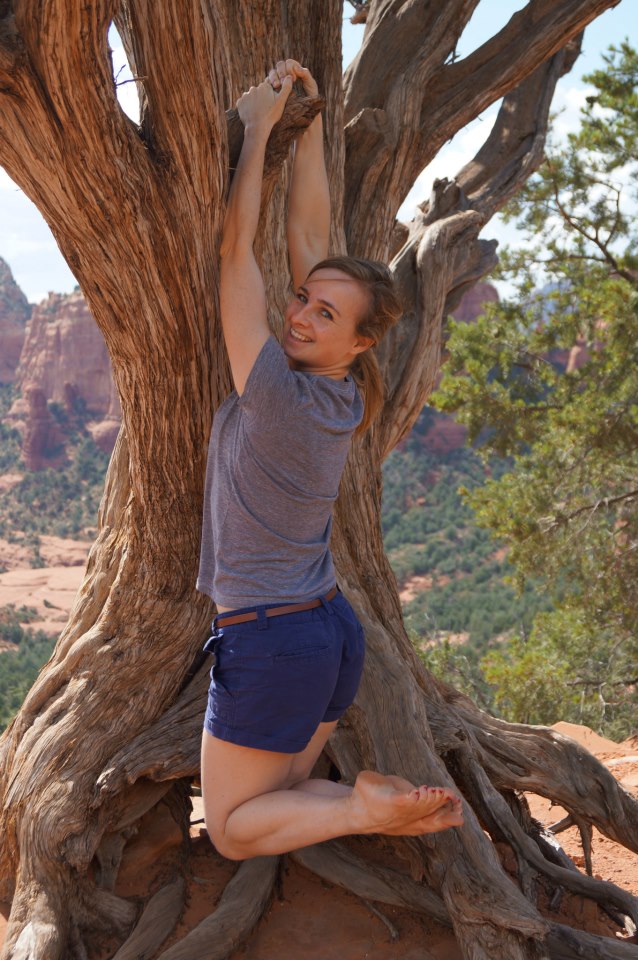 This Nutrition Cheat Sheet, will help you get in your daily requirements of vitamins and minerals each day.
If you don't eat meat, you'll find this Nutrition Cheat Sheet particularly helpful, as I've included options for vegetarians, vegans, pescatarians and people on a low-carb or ketogenic diet.
I'm a vegetarian that primarily eats a low-carb, high-fat, dairy-free diet, adding fish in every once and awhile. If I'm not careful, I can be low in iron, calcium and vitamin B12, which can result in alopecia (hair loss), anemia and low energy.
To combat these potential problems, I do the following:
Make sure I'm getting enough Calories in my day, so that I don't get adrenal fatigue, messed up hormones or elevated cortisol levels.
I use MyFitnessPal to track my Macro & Micro nutrients.
I make sure to know what foods offer what nutritional value.
I'm on top of the research when it comes to biohacking (a systems-thinking approach to our own biology).
I hope this helps you in your quest for a happy and healthy body!
Enjoy!
Meg xo
Calories
A calorie is a unit of energy. In nutrition and everyday language, calories refer to energy consumption through eating and drinking, and energy usage through physical activity. For example, an apple may have 80 calories, while a 1 mile walk might use up about 100 calories.
There are two types of calories:
A small calorie (sympbol: cal) – 1cal is the amount of energy required to raise one gram of water by one degree Celsius.
A large calorie (symbol: Cal, kcal) – 1Cal is the amount of energy required to raise one kilogram of water by one degree Celsius.
1 large calorie (1kcal) = 1,000 small calories.
ACTIVITY LEVEL
Very Active
If you're very active, your activities include: daily living, such as shopping, cleaning, watering plants, taking out the trash, walking the dog, mowing the lawn and gardening.
Spending most of the day doing heavy physical activity (e.g. bike messenger, carpenter)
Daily exercise that is equal to walking for 4 hours and 15 minutes at 4mph.
Intense exercise such as jogging for 2 hours per day.
For an adult of average weight, this amount of exercise will burn about 1,150-1400 additional calories.
Athletes generally have higher calorie needs.
According to a study published in a 2009 edition of the "North American Journal of Sports Physical Therapy," collegiate women swimmers consume an average of 3,229 calories per day.
Active
If you're active, your activities include: daily living, such as shopping, cleaning, watering plants, taking out the trash, walking the dog, mowing the lawn and gardening.
Spending a good part of the day doing some physical activity (e.g. waitress, mailman)
Daily exercise that is equal to walking for 1 hour and 45 minutes at 4mph.
Those who walk more than 3 miles per day (6,000 steps), or participate in exercise equivalent to walking that distance.
Choose active if you walk 6,000-10,000 steps a day, or participate in exercise equivalent.
Intense exercise such as jogging for 50 minutes per day.
For an adult of average weight, this amount of exercise will burn about 470-580 additional calories.
The Dietary Guidelines for Americans 2010 report that active women need 2,000 to 2,400 calories per day for healthy weight maintenance.
According to Harvard Medical School, active women need about 18 calories per pound of body weight. This would be approximately 2,160 calories per day for a 120-pound woman.
Lightly Active
If you're lightly active, activities include: daily living, such as shopping, cleaning, watering plants, taking out the trash, walking the dog, mowing the lawn and gardening.
Spending a good part of the day on your feet (e.g. teacher, salesman)
Daily exercise that is equal to walking for 30 minutes at 4mph.
Intense exercise such as aerobics, skiing or jogging for 15-20 minutes per day.
For an adult of average weight, this amount of exercise will burn about 130-160 additional calories.
Not Very Active/Sedentary
If you're sedentary, your activities include: daily living only, such as shopping, cleaning, watering plants, taking out the trash, walking the dog, mowing the lawn and gardening.
Spending most of the day sitting (e.g. bank teller, desk job).
No moderate of vigorous activities.
A sedentary person will average 1,000-3,000 steps a day.
Unless you do at least 30 minutes per day of intentional exercise, you are considered sedentary.
If You're Overweight
Calorie reduction is the key to successful weight loss in overweight and obese women.
For this group, 1,000- to 1,600-calorie diets are often effective, according to the U.S. Department of Health and Human Services.
Consuming fewer than 1,000 calories per day can lead to rapid weight loss, and this requires medical supervision.
For very obese or sedentary women, a simple way to estimate the number of daily calories you should consume for weight loss is to multiply your desirable body weight by 10, according to the University of Washington.
Macronutrients
There are three primary macronutrients: protein, carbohydrate, and lipids (fat).
Macronutrients are defined as a class of chemical compounds, which provide us with the bulk of our energy.
Protein (amino acids)
Reconstructs body tissue, helps speed the body regeneration process and be more efficient in the fabrication of new cells by eating food rich in amino acids. Greens have the highest amino acids per ounce of any food.
When eating soy products, try to stick to only those that are non-GMO and fermented (like organic tempeh).
If you find your protein needs still aren't being met, you could consider using an organic rice or hemp protein powder, but only use it as a supplement—not a regular meal replacement. 
Miso
Natto
Tempeh
Hemp
Sprouts
Seeds
Greek yogurt
Navy beans
Dried lentils
Canned tuna
Almond butter
Tofu
Edamame
Wheat germ
Soba noodles
Quinoa
Almonds
Cashews
Pumpkin seeds
Sunflower seeds
Tahini (sesame butter)
Black beans
Kidney beans
Chickpeas
Pinto beans
Oatmeal
Navy beans
Broccoli
Kale
Spinach
Mushrooms
Carbohydrates (fructose, glucose, sucrose, ribose, amylose, amylopectin, maltose, lactose, galactose, sugar)
In food science and in many informal contexts, the term carbohydrate often means any food that is particularly rich in the complex carbohydrate starch (such as cereals, bread and pasta) or simple carbohydrates, such as sugar (found in candy, jams, and desserts).
BAD CARBS (HIGH GLYCEMIC, HIGHLY PROCESSED)
Pastas
Breads
Chips, crackers, and pretzels
Tortillas
Rice
Sodas
Cereals
Any other packaged foods with refined sugars or flours
Fruit juices and most fruits
White potatoes, sweet potatoes
Starchy vegetables
GOOD CARBS (LIMITED) FOR A VEGETARIAN ON KETO
Spinach
Kale
Collard greens
Swiss chard
Lettuce
Asparagus
Green beans
Broccoli
Cucumber
Summer and winter squash
Red and white cabbage
Cauliflower
Bell peppers
Onions
Mushrooms
Tomatoes
Eggplants
Garlic
 Fruits
Berries are lower in sugars and carbs, so they're typically okay in small amounts and at the end of the day before you fast while sleeping:
Blackberries
Strawberries
Raspberries
Blueberries
Fat (saturated fat, monosaturated fat, polyunsaturated fat, trans fat, essential fatty acids, cholesterol)
Fats serve both structural and metabolic functions.
Best nut options (lower carb):
Pecans
Brazil nuts
Macadamia nuts
Walnuts
Coconut (unsweetened)
Hazelnuts
Pine nuts
Almonds
Nut butters made from any of the above
Nut options to eat sparingly or not at all (higher carb):
Peanuts
Pistachios
Cashews
Chestnuts
Best seed options:
Healthy Oils:
Olive oil
Coconut oil
Avocado oil
MCT oil
Macadamia oil
Flaxseed oil
Other Non-Dairy Fat Sources
Olives
Avocados
Cocoa butter
Coconut cream
Dairy and Eggs
Heavy whipping cream
Cream cheese
Cottage cheese
Mayonnaise
Hard cheeses like parmesan, swiss, feta, and cheddar (full-fat)
Soft cheese like brie, Monterrey jack, mozzarella, and bleu cheese (full-fat)
Butter (grass-fed)
Eggs (make sure they're pastured or free-range and preferably omega-3-enriched)
Full-fat unsweetened Greek yogurt or coconut yogurt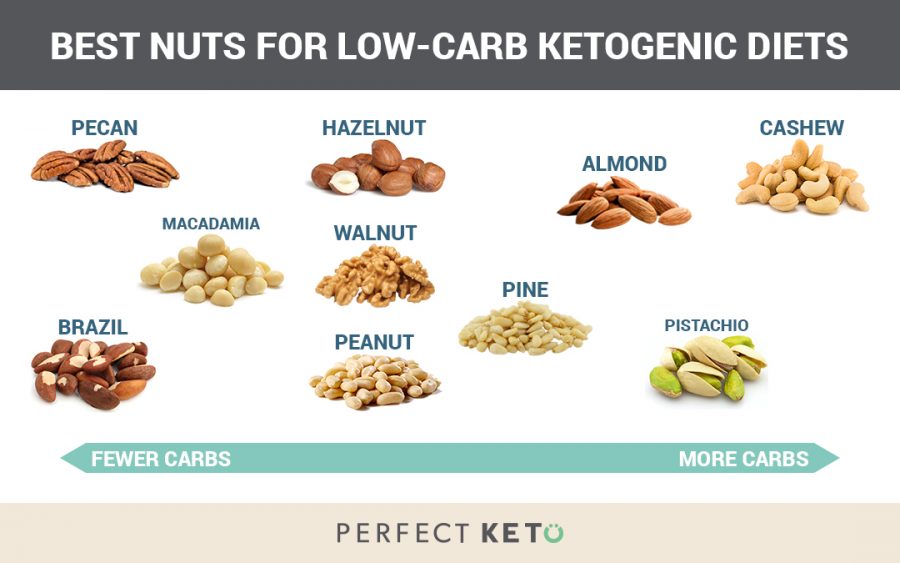 Macronutrients that don't provide energy
Water
Fiber (30-62 grams recommended)
Dietary fiber or roughage is the indigestible portion of food derived from plants. It has two main components:
Soluble fiber, which dissolves in water, is readily fermented in the colon into gases and physiologically active byproducts, and can be prebiotic and viscous. It delays gastric emptying, which in turn can cause an extended feeling of fullness.
Insoluble fiber, which does not dissolve in water, is metabolically inert and provides bulking, or it can be prebiotic and metabolically ferment in the large intestine. Bulking fibers absorb water as they move through the digestive system, easing defecation.
Split peas
Lentils
Black beans
Lima beans
Artichokes
Peas
Broccoli
Brussel Sprouts
Raspberries
Blackberries
Avocados
Pears
Whole-Wheat Pasta
Pearled Barley
Oatmeal
Flaxseed
Chia seeds
Spinach
Carrots
Antioxidants
Antioxidants are substances or nutrients found in our bodies and food that help to stop or slow down oxidative damage. Our bodies use oxygen to function, and as a result free radicals are produced. These little things bounce around causing all sorts of damage to our cells. This is a natural process, and antioxidants clear up the free radicals, helping reduce their potential damage. Here are a few tips for maximizing antioxidant content of cooked veggies:
Don't peel
Minimize chopping
Don't soak in water pre-cooking
Cook quickly at a high heat rather than slowly on a lower heat
Don't cook in copper pots (this reduces the amount of vitamin C)
Frozen veggies are good sources of antioxidants
Steaming helps retain nutrients
Micronutrients
There are 28 essential vitamins and minerals that play key roles in the body. Many, such as vitamins C and E, act as antioxidants.
Many North Americans take in less than the recommended dietary allowance (RDA) for many micronutrients, such as zinc, folic acid, vitamin D, vitamin B6, and vitamin B12.
Vitamins
Vitamin A (Retinol)
Carrots
Sweet potatoes
Kale
Spinach
Apricots
Broccoli
Red Peppers
Tuna
Mango
Squash
Vitamin B1 (Thiamine)
Vitamin B2 (Riboflavin)
Vitamin B3 (Niacin)
Vitamin B5 (Pantothetic acid)
Vitamin B6 (Pyridoxine)
Apple
Sweet Potato
Banana
Vitamin B7 (Biotin)
Vitamin B9 (Folitc acid)
Vitamin B12 (Cobalamins) (2.4 mcg recommended)
Nutritional Yeast
Veggie Meats
Soy milk
Supplement (10 mcg when taken once a day OR at least 2,000 mcg when taken once a week
Vitamin C (Ascorbic acid)
Vitamin D (Calciferol) (5 mcg-8.5 mcg recommended)
Essential for the absorption of Calcium
Fish supplements with Vitamin D
Look for D2 on labels
Kale
Soy milk
Rice milk
Vitamin E (Tocopherol)
Vitamin K1 (Phylloquinone)
Minerals
Calcium (1,000 mg recommended)
Kale
Collards
Broccoli
Turnip Greens
Eat less sodium, so calcium absorbs
Chloride/Chlorine
Chromium
Cobalt
Copper
Iodine
Iron (32.4 mg recommended)
There are two types of iron — heme, which is found in animal foods, and non-heme, which is from plants. It is true that heme iron (the kind from animals) is better absorbed than non-heme iron.
Vegetarians and vegans may have lower iron stores than omnivores.
Eat non-heme iron foods with vitamin C foods, and absorption can increase as much as five times. Some iron sources, like leafy greens, broccoli, and tomato sauce already contain vitamin-C. Avoid coffee and tea when eating high-iron meals. Coffee (even decaf!) and tea contain tannins that inhibit iron absorption. Avoid them an hour before or two hours after your meal. Cooking with an old school cast-iron skillet increases the iron in your meal — especially when you cook a vitamin-C containing food in it.
Lentils
Soybeans
Tofu
Tempeh
Lima beans
Quinoa
Brown Rice
Oatmeal
Pumpkin
Squash
Pine nuts
Pistachios
Sunflower seeds
Cashews
Unhulled Sesame seeds
Tomato sauce
Swiss Chard
Collard greens
Blackstrap Mollasses
Prune juice
Magnesium
Manganese
Molybdenum
Phosphorus
Potassium
Selenium
Sodium
Zinc (8 mg recommended)
Cashews
Pumpkin seeds
Almond butter
Sesame tahini
Wheat germ
Granola with nuts
Asparagus
Essential Fatty Acids
When the two EFAs were discovered in 1923, they were designated "vitamin F", but in 1929, research on rats showed that the two EFAs are better classified as fats rather than vitamins.
Omega-3 (Alpha-Linolenic acid – ALA) (3-6 grams recommended)
Flaxseed oil
Flaxseeds
Hempseeds
Walnuts
Pumpkin seeds
Sesame seeds
Omega-6 (Linoleic acid – LA)
Essential Amino Acids
H Histidine
I Isoleucine
L Leucine
K Lysine
M Methionine + C Cysteine
F Phenylalanine + Y Tyrosine
T Threonine
W Tryptophan
V Valine
Superfoods
Fermented vegetables like kimchi
Kambucha
Adaptogens
Sprouted foods (chickpeas, lentils, mung beans)
Shiitake mushrooms
Coconut water
Green tea
Green tea seed oil
Rooibos (red tea)
Yerba Mate
Flax seeds
White chia seeds
Apple Cider Vinegar
Ginger
MonthlyFlo: The Cycle Syncing System by Alisa Vitti
Credit: Flo Living/Womancode
Menstrual Phase (your period)
Beet, kale, kelp, mushrooms
Seaweed helps replenish the body of iron, which you lose during your period.
Walking, Yoga, Qigong
Follicular Phase (before you ovulate, after your period)
Artichoke, broccoli, carrot, parsley, green peas, string beans and zucchini
Cardio, Dance workout, Qoya, Toning
Ovulatory Phase (when you're ovulating)
Asparagus, brussels sprouts, chard, escarole, scallion, spinach
Ten minute workout, Intense workout, Body weight workout
Luteal Phase (before you have your period)
Cauliflower, collard greens, daikon, onion, parsnip, radish, squash, sweet potato
Roasting veggies during your luteal phase helps stave off sugar cravings.
Leafy greens keeps water retention at bay, both common PMS symptoms.
Pilates, 8 minute workout, Yoga for stress release & weight loss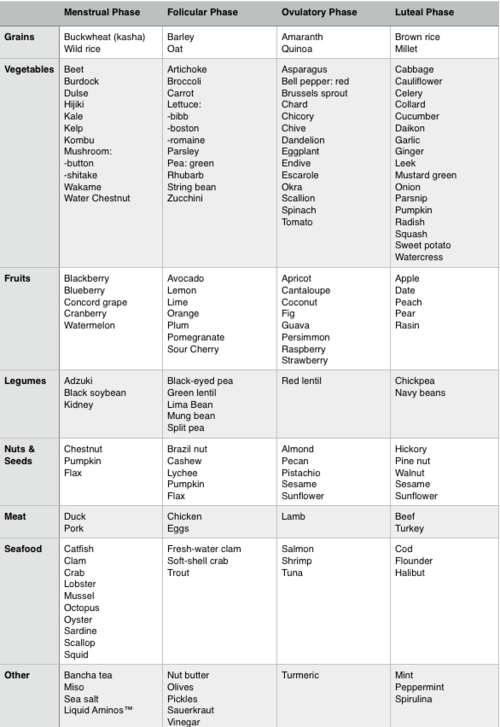 Ketogenic Diet
The ketogenic diet (keto) is a low-carb, high-fat diet. It lowers blood sugar and insulin levels, and shifts the body's metabolism away from carbs and towards fat and ketones.
Ketogenic diets are characterized by a reduction in carbohydrates (usually to less than 50 g/day) and a relative increase in the proportions of protein and fat.
The reduction in carbs puts your body into a metabolic state called ketosis.
When ketosis happens, your body becomes incredibly efficient at burning fat for energy. It also turns fat into ketones in the liver, which can supply energy for the brain (6, 7).
Ketogenic diets can cause massive reductions in blood sugar and insulin levels.
Over 20 studies show that this type of diet can help you lose weight and improve health (1).
The ketogenic diet actually originated as a tool for treating neurological diseases, such as epilepsy.
Health Benefits of the Ketogenic Diet
Studies have now shown that the diet can have benefits for a wide variety of different health conditions:
References
http://www.doctoroz.com/article/4-week-cyclical-hormonal-health-plan
http://www.leefromamerica.com/blog/2017/5/1/cycle-syncing
https://www.healthline.com/nutrition/ketogenic-diet-101
http://meatfreeketo.com/category/recipes/